0
Mastodon appear on Game of Thrones – and then got killed
Metal heroes portray wildlings on latest episode of hit fantasy show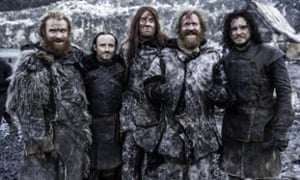 They are savage, brutal men from a remote place, barely attuned to civilization. And so are the wildlings, which might be why Mastodon were invited to appear as the wild men from north of The Wall in the latest episode of
Game of Thrones.
The metal quartet appeared in the episode that was broadcast on Sunday 31 May in the US and goes out on Monday 1 June in the UK, at the invitation of the show's creator/executive producer Dan Weiss.
mastodon is an American heavy metal band from Atlanta, Georgia, formed in early 2000 and composed of bassist Troy Sanders, guitarists Brent Hinds and Bill Kelliher and drummer Brann Dailor. Their musical style features progressive concepts and unique instrumentation. All four members participate in vocals, creating a unique blend of singing styles and voices.
Mastodon has released six studio albums, as well as a number of other records.
Mastodon's Brann Dailor said, in a statement that contains spoilers unlikely to be central to the plot:
"It was such an incredible experience to be on set as extras for our collective favorite show
Game of Thrones
, and to be wildlings murdered and then brought back to life by White Walkers was beyond amazing. I watched my best friends, Brent and Bill, murdered right in front of me as I myself was stabbed in the stomach and had my throat slit multiple times, and I didn't mind at all. It made me love being in Mastodon even more. We are more than privileged and honoured to have been a part of one of the greatest stories ever told on film –